The Cell respiration assay system -3.0 (Cras-3.0) is a measurement system applied with the latest electrochemical measurement technology.
By measuring respiration of embryo, quantitative evaluation of embryo is possible.
By scanning a microprobe (tip diameter of approximatelyφ5μm) up and down, the system electrochemically measures the concentration gradient of dissolved oxygen from the vicinity to offshore of the embryo placed in an inverted conical well filled with measurement solution and calculates the embryo's respiratory rate using a theoretical formula.
There is no effect on embryo viability or development because it can measure non-invasively without touching the embryo directly.
A general HTF medium can be used as the measurement solution.
Operation of CRAS-3.0 is done using specialized software. Its high-performance camera allows the user to easily perform high-precision operation in units of 1μm minimum by the click of a mouse while checking the position of the embryo and the microprobe in real time. Since all movement distances can be confirmed by numerical values, accurate and highly reproducible measurement is made possible.


The specially designed plate used for the measurement has 6 wells to set the embryo, and the respiration rate of up to 5 (*1) embryos can be measured continuously.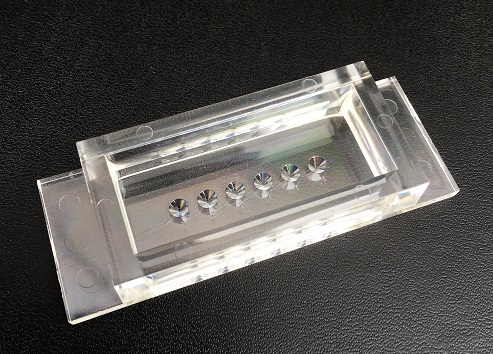 CRAS can quantitatively evaluate embryo respiration. An objective index is added to the conventional method of morphological observation of the embryo, which contributes to improvement of evaluation accuracy.